by Karleen Pendleton Jiménez, NACCS Chair
Dear NACCS Members,
In Toronto where I sit typing, a couple hours away from the closed border with the US, the cases surge. Each night I take account of the numbers on the land where I reside, along with those of my Los Angeles homeland. It is my own little ritual for keeping connected to a tiny piece of the struggle and loss, even while I am isolated in this home in the north. Before I was interested in Chicana/o/x Studies, I was a math geek, and numbers have always grounded me. Tonight, however, they fill me with sadness. I read that the "excess death rate" this year for "Latinos" in the U.S. is 53.6 %, compared to 36.6 % for Asians, 32.9 % for Blacks, and for 11.9 % for Whites.1
While Covid-19 is new, disparity is not. We cannot know the precise reasons for each death, but we understand fully the deadly context for Chicana/o/xs. Chicana/o/x Studies teaches us about the inequities in education, food, employment, housing, land, and healthcare. It teaches us about systemic racism, sexism, classism, ableism, homophobia, transphobia and violence on the border, in our schools, neighborhoods, homes, at voting booths. And, it also teaches us about the power and beauty of our identities, families, communities, knowledge, survival, resilience, pleasure and art. The significance of Chicana/o/x scholarship and artistic creation cannot be any clearer during this devastating time. We are writing, teaching, researching, caring, loving, dreaming for our lives. In this edition of Noticias, in addition to a general call for member information, I invited you to write to bring Chicana/o/x Studies to the themes of Covid-19 & State-sanctioned Violence. Thank you for offering your words, stories, announcements, tributes, and experiences to fill the pages.
Gracias también to all of you who were able to participate in the thoughtful and engaging NACCS Member Meeting in July. The NACCS Board is working through your many ideas, strategies, and tips in order to provide a meaningful and successful virtual NACCS conference. Many of you have submitted proposals and we look forward to seeing you all at our virtual conference in Spring 2021, "Love in the Time of La Corona" where we can continue the conversation.
1. https://www.washingtonpost.com/health/coronavirus-excess-deaths/2020/10/20/1e1d77c6-12e1-11eb-ba42-ec6a580836ed_story.html
---
NACCS 2021
Love in the Time of La Corona
Online Conference Dates April 14-16, 2021
Details Forthcoming
Individuals will be notified by January 6, 2021
Deadlines Extended:
NACCS Scholar, December 1, 2020: https://www.naccs.org/naccs/NACCS_Scholars.asp
Cervantes Student Premio, December 15, 2020: https://www.naccs.org/naccs/Cervantes_Student_Premio.asp
---
NACCS Post-Election Analysis: Friday, Nov. 20, 2020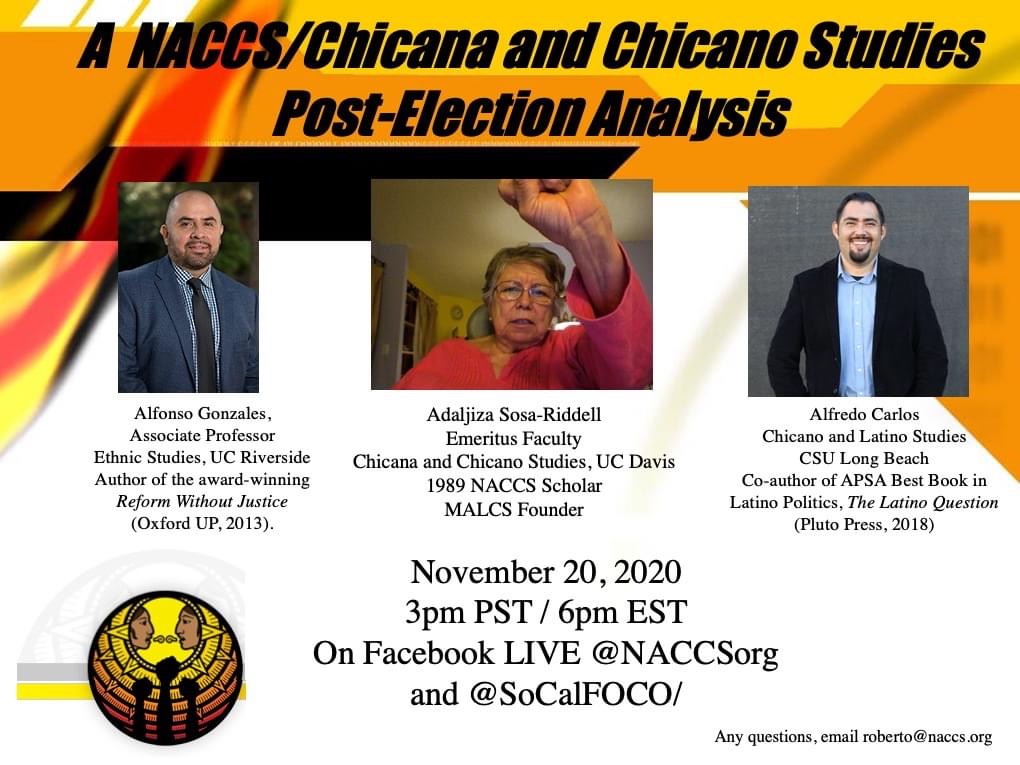 Fall 2020, No. 46 No. 1