By Aureliano M. DeSoto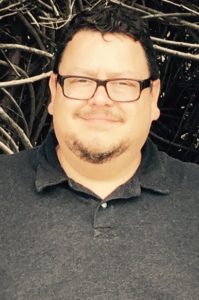 Greetings, members of NACCS! My name is Aureliano DeSoto and I am chair-elect of the organization this year (2017-2018). The chair-elect is the principle person to develop the theme for the annual conference, and this year, my theme of "The Queer Turn" was very much inspired by the different, exciting, and challenging transformations I have seen over the last 25 years in Chicana/o/x Studies broadly, but also at NACCS specifically. The electric effects of Chicana feminisms and Chicana lesbian feminisms influenced a whole generation of scholars and students in the 1980s and 1990s, and these influences continue through time, and are now being transformed and reinterpreted by a new generation of students and scholars. Thirty years ago, when I was an undergraduate, we seemed to be at the start of the development of a language to describe ourselves, to ourselves and to others. It is easy now to forget how shocking and controversial critical approaches to gender and sexuality were to both dominant society and in Chicana/o/x Studies in particular in the 1970s and 1980s. We now have a sophisticated, if sometimes contradictory, set of descriptive and analytic tools in which to better appreciate and understand our identities in a nuanced manner. As someone who was deeply affected and changed by the writings of Moraga and Anzaldúa in particular, I wanted to explicitly honor these achievements at the 2018 conference.
However, it is important to understand that these transformations, especially around the role and study of gender and sexuality, in Chicana/o/x Studies cannot be divorced from the larger changes in the profession as a whole and American society more generally. But they have a unique and particular inflection in Chicana/o/x Studies. Partly this distinctive effect has to do with the deep personal and social investment many of us in the field have in the rhetorical, discursive, and political questions that have animated Chicana/o/x Studies. The feminist aphorism of "the personal is political" has always been instructive to Chicana/o/x Studies as well.
Since the various elements of the Chicano Movement of the 1960s and even before, Chicanas/os/xs have argued and debated over the key elements of Chicana/o/x identity, culture, and tactical economic and political strategies. Heated disagreements amongst ourselves are nothing new. What does seem to be new, now, is that the perceived stable points on the compass in those debates, such as the American imperial order, (white) middle-class mass economies, post-war mass media, white racial demographic dominance, the post-war socio-political environment of two known, relatively fixed political parties, and the university as an institution, all now seem to be openly and frankly undergoing their own radical, chaotic transformations that will necessarily entail new or at the very least different strategic responses on the part of Chicana/o/x activists, students, scholars, and cultural producers. This perception of the stability of white American dominant society and institutions always was and remains a fantasy, but this fantasy has served as a somewhat convenient foil for Chicana/o/x argument. We no longer have even the luxury of that foil, and must now work and think (even) harder to understand the world we live in.
I speak to you as someone who has been involved in these debates for what seems to me now to be a very long time. From my undergraduate days as a member of MEChA, to the trials and tribulations of graduate school, to the absolute shock of my first Assistant Professorship, conflict as well as collaboration have been the lodestars of my experiences. I am hoping that this year's theme will provide us with myriad opportunities to challenge our preconceptions, and together, in a focused space, begin to develop new and innovative ways of thinking through the contemporary challenges to our community and Chicana/o/x peoples everywhere.
I look forward to meeting you at the 2018 convention in Minneapolis-Saint Paul!
Fall 2017, Volume 42 No. 1