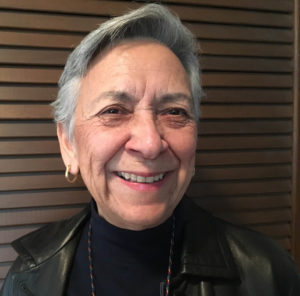 Rosaura Sánchez, "una de las grandes"
University of California, San Diego
With unanimous excitement the NACCS Board announces Dr. Rosaura Sánchez as NACCS Scholars 2018 and forever after.  Hers is a tale of commitment, tenacity, and perseverance that provides a context for the labor of NACCS.
Dr. Sánchez began her educational pursuits in 1959 attending the UT at Austin, where she earned a B.A. in Spanish (with a minor in English) in 1963.  Following her BA she entered the Peace Corps where she served as an ESL and Literacy Instructor in Ecuador from 1964-1966.  Among her professional experiences early in her career, Dr. Sanchez served as a Language Instructor in the Peace Corps Summer Training Programs and Teacher Corps at USC Rural Migrant 1967-1970, and 1969-1971 respectively. In 1969 she completed an MA in Spanish and in 1974 a PhD in Romance Linguistics also at the UT at Austin.  Her dissertation entitled:  A Generative Study of Two Spanish Dialects.
According to Dr. Mary Pardo, Sánchez' "impressive record of contributions, including scholarly work, academic preparation of new scholars…, political stances against injustice, and creative writing represent a life achievement…What is most impressive to me is the consistent rigor of her arguments and ability to engage in contemporary political reflections….my most respected colleagues in Chicana/o Studies at CSUN, include Alicia Ivonne Estrada, PhD., who Sánchez mentored when she was an undergraduate student…Sánchez' life achievements embody NACCS central mission-a lifetime of critical inquiry regarding the Chicana/o/Mexican/ experience and engagement in contemporary political debates.
Also students of Sanchez were: Dr. Clara Lomas, Dr. Rosalinda Fregoso, and Dr. Lauro Flores.  Dr. Flores stated:  "I met Prof. Sánchez in 1971, when she had just arrived in San Diego, and I was an undergraduate student…Since then, she has been more than just an exemplary scholarly and a teacher, she has been a mentor for several cohorts of students who have moved on to become important figures in the field of Chicana/o Studies, and essential contributions to the development of various areas in the field.  In addition to her work as an advocate for her students, Professor Sanchez' scholarship has also opened many doors for younger researchers …she has been a true trailblazer in Chicana/o Studies and many related fields:  Critical Theory; Cultural Studies, Third World Studies, and Gender studies."
Lastly, Dr. Chabram, stated:  "In my opinion Prof. Sánchez is one of the leading critical Chicana thinkers of our times…At a time in which mainstream scholars were taken aback by the multiple particularities of el lenguaje de los Chicanos, Sánchez  delivered a foundational work that documented the longstanding social, cultural and contextual domains of Chicano discourse…she possesses the kind of intelligence, dedication, and yes, dignity, that is rare in academia.  For me she exemplifies what a NACCS Scholars should be and can be."
Nominated by the N. CA Foco and received support from former students, Dr. Lomas (Colorado College), Dr. Flores (U of Washington),  Dr. Fregoso (UC Santa Cruz) and a colleague from the S. CA Foco, Dr. Pardo (CSU Northridge).
Spring 2018 – Vol. 42 No. 2