By Jennifer L. Berghom
Courtesy of The University of Texas Rio Grande Valley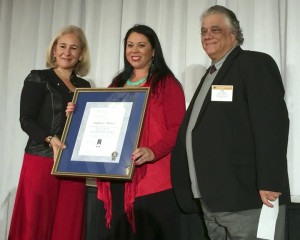 RIO GRANDE VALLEY, TEXAS – NOV. 19, 2015 – Dr. Stephanie Alvarez, an associate professor of Mexican American Studies at The University of Texas Rio Grande Valley, has been named a U.S. Professor of the Year by the Carnegie Foundation for the Advancement of Teaching and the Council for Advancement and Support of Education (CASE).
Alvarez is the first faculty member in The University of Texas System to receive the national award, and is one of just four national recipients this year.
"It's something that is an honor not just for myself, but for all my students, for the entire university community and my entire family – mostly because all of my teaching is grounded in my students," Alvarez said. "It's grounded in the community, and I draw from them. They're my inspiration for everything that I do."
Alvarez joined UTRGV's legacy institution, UT Pan American, in 2006. Among her accomplishments are helping redesign the Mexican American studies program, and developing the Cosecha Voices project with the late Latino poet Tato Laviera. The project provided training to migrant students in the K-12 public school systems on creative writing assignments about their experiences working as migrant farmers with their families.
Dr. Ala Qubbaj, UTRGV vice provost for Faculty Affairs and Diversity, said the recognition is well-deserved.
"We are very proud that one of our UTRGV faculty members, Dr. Stephanie Alvarez, has been named as one of the most outstanding college professors in undergraduate education nationwide," Qubbaj said. "This significant recognition clearly reflects on the high caliber of our UTRGV faculty and the exceptional educational experiences they are providing to our students. Through her excellence in teaching, student engagement and mentoring, Dr. Alvarez has positively impacted the lives of so many students and their ability to succeed in college and beyond, which is central to UTRGV's mission and focus."
Alvarez might draw inspiration from her students, but those students say she is their inspiration.
Arnulfo Daniel Segovia, a graduate student in the Mexican American Interdisciplinary Studies program at UTRGV, said Alvarez is highly commitment to her students. "As an educator, she's able to challenge us to grow as students and human beings, and to give us this intellectually nurturing experience in the classroom," he said. "She is more than a mentor. She's more like a mentor and a good friend who is always there for you, to give you direction and guidance."
Claudia Razo, another UTRGV graduate student in Mexican American Interdisciplinary Studies, said Alvarez has guided her throughout her undergraduate and graduate experience, from advising her on which courses to take, to encouraging her to continue her studies into the master's program. "She was the one who inspired me to do it. I wanted to finish with my bachelor's degree and that was it," Razo said. "She said I could do it. She kept telling me to move forward and apply." Razo took the advice to heart. "She's become a huge part of my life, because she's been such an inspiration to me," she said.
Conducted by CASE and sponsored by the Carnegie Foundation for the Advancement of Teaching, the national awards recognize professors for their influence on teaching and commitment to undergraduate students, according to a CASE news release. In addition to the four national winners, 35 faculty members were named state Professors of the Year. CASE began the awards program in 1981.  National and state winners of the 2015 U.S. Professors of the Year awards were honored today, Nov. 19, 2015, at a luncheon and awards ceremony at the Ronald Reagan Building and International Trade Center in Washington, D.C.