Stephanie Alvarez is an associate professor of Mexican American studies at university of Texas – Rio Grande valley and faculty affiliate in literature and cultural studies. She is passionate about providing students with a culturally and linguistically affirming education and opportunities to connect their education with their lived experiences, and recover their experiences and stories and those of their familias and communities. She uses literature, art, music and comedy as tools to guide students through the process of recovery which often happens through testimonio, oral history and digital story-telling. her research is grounded in the same concepts.  In addition, this year, Dr. Alvarez was selected to receive the Outstanding Latino/a Faculty in Higher Education (Teaching Institutions) Award from the American Association of Hispanics in Higher Education (AAHHE).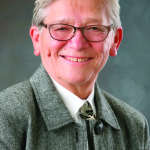 Nancy "Rusty" Barcelo has served as Northern New Mexico College's president since July 2010. She is known nationally for her work in academics and diversity. She brings a national reputation and a 30-year career in higher education at the university level to Northern, as the College continues a transition to a high-quality four-year institution offering baccalaureate degrees in 14 disciplines, and a graduate-level program in the advanced planning stage.Dr. Barceló's teaching experience is extensive; she has served as an affiliate faculty, affiliate assistant professor, adjunct faculty, and adjunct assistant professor. She is also currently a full professor. Prior to her appointment as President of Northern, she served as Vice President and Vice Provost for Equity and Diversity at the University of Minnesota. She has written for numerous publications, including Chicana/Latina Studies: The Journal of Mujeres Activas and a forthcoming chapter in a book by Sylvia Hurtado on diversity and institutional transformation in universities. She is recognized nationally for her excellent professional presentations. She has received many awards, including the NACCS 2012 Scholar award (National Association for Chicana and Chicano Studies), and the New Mexico Hispano Round Table "Walk the Talk" award.
Clarissa Rojas Durazo grew up in the border cities Mexicali, Baja California and Calexico, California. Her family has roots in Sonora and the border cities Nogales and Douglas, Arizona, as well as Guadalajara, Jalisco. Her scholarship and activism explore the interrelatedness of myriad manifestations of violence and the possibilities for the transformation of violence.Clarissa co-founded INCITE: Women of Color Against Violence and co-edited The Color of Violence, re-released by Duke this year. She also co-edited "Heteropatriarchal Institutional Violence and the Future of Chican@ Studies," in Chicana/Latina Studies and a special issue of Social Justice Journal, "Community Accountability: Emerging Movements to Transform Violence." Her article, "Morphing War into Magic: The Story of the Border Fence Mural, a Community Art Project in Calexico/Mexicali," appears in Aztlán's special issue on the 25thanniversary of Gloria Anzaldúa's Borderlands/La Frontera. Her poem, "My Love is not Perfect" appears in Sinister Wisdom's award-winning collection Latina Lesbian. She is a long-term community organizer who teaches toward decolonial and abolitionist futures in Chican@ Studies at UC Davis. Clarissa is an internationally published poet who believes in caracoles and trusts the creative spirit.